The Play Kit is a fun educational toy that bridges the best of digital and physical play to offer an entertaining and immersive learning experience for children.
Story driven games are at the core of this app, and our unique learning methodology of interaction, practice and production helps children develop their language, numeric, artistic, social and cognitive skills.
The AppyKids Interactive Play Kit is designed for children ages 3+ and is comprised of:
One lovable Appy: a toy that is versatile enough to be a buddy and a stand for your device!
The Play Kit app: Loaded with tons of story based games that are constantly updated so your child is engaged and challenged!
Smart flash cards: Point these at the app and follow the interaction for some learning magic!
We saw a lot of apps that focussed on one aspect of learning and were assessment based, but children, at this age especially, learn through story, song, game play and interaction with characters they love.
We've built a unique methodology that uses story and play to take a child through the different stages of learning. Children are encouraged to practice at their own pace and are rewarded at every stage of play.
Our family of lovable Appies serve as guides through the app, making the whole experience a lot of fun.
The seamless interaction of the flashcards with the app is what kids really can't get enough of. They get immediate feedback, making game play physical and exciting.
The Play Kit app will be available to download for free on the Apple App Store and Google Play Store.
We have worked with Apple Distinguished Educators and Education Technologists to craft a unique learning methodology. Each step within the journey is carefully designed and developed so that a child progresses incrementally.
This approach is used throughout our Play Kit app to help children learn in an exciting and engaging manner.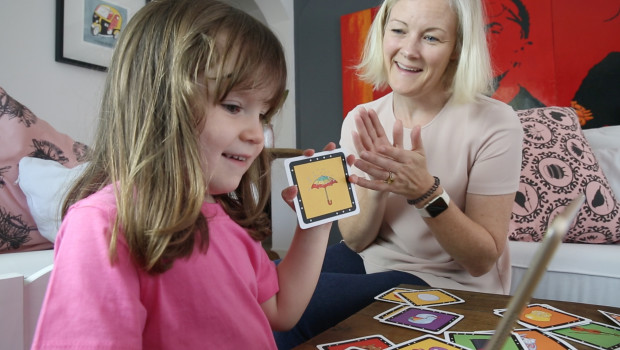 Children and parents can enjoy the Play Kit app together which helps to develop a child's social interaction. The flashcards create an environment of tactile reinforcement.
In order to ensure that screen time is meaningful, the Interactive Play Kit comes with a handy companion app for parents which allows them to track their child's engagement and progress from their own devices.
The Interactive Play Kit has been designed to grow with your child. We have an extensive roadmap of expansion packs that range from fun thematic topics to learning languages.
We are enthusiastic partners of your child's learning journey and are keen to see them build a strong foundation in these important early years.
We have self financed all the development to date and have been working hard to perfect the Play Kit.
Design, packaging, product samples, prototyping and app development is done and we are eager to proceed to manufacturing, which is why we need your help.
We have identified a reputed manufacturer with over 35 years experience in the toy industry and have finalised the manufacturing process.
With your help we can commence final sampling, safety certification and manufacturing.
With support from someone like you - who appreciates big ideas with a lot of heart, we can get his product into the hands of kids as soon as possible! Please Support Us and claim a Perk!
Q: What age group is the Play Kit intended for?
A: The Play Kit is built for ages 3+.
Q: What platforms do you support?
A: iOS - Devices with iOS version 7.0+
Android - HDPI devices with Android 4.4+ with a front-facing camera. Devices should have a capable CPU (armv7a and NEON support). Example: Samsung Galaxy S3 or above.
Q: Since the product is designed for kids, is it safe and compliant with international toy standards?
A: Once the hand sampling and tooling is done, we will work towards the safety inspection tests. We have designed the product to ensure that it complies with the Business Social Compliance Initiative (BSCI) safety standards and the product will undergo several tests to ensure that it is safe for use by children above the ages of three.
Q: Can I become a beta tester?
A: We have a small group of beta testers that we will contact when we are close to finalising the app. We will reach out to early backers who have an iPad and ask them to help out in the testing of the product.
Q: Why do you need $25,000?
A: We need to order a minimum number of units for the manufacturer to take on the project. This will help us to go through the tooling, sampling, safety testing and certification, pilot runs and final production of the product. We also plan on spending time on the ground in the production run phase to ensure that the product meets our requirements and we have no developmental issues or delays.
Q: Is money the only obstacle you have or are there more obstacles? Is raising funds for this product the only challenge you're facing?
A: Design, packaging, product samples, prototyping and app development is all done. We have engaged a toy manufacturer who has over 35 years experience in the industry and are using their expertise to help guide us in the development process. We're now ready and eager to go into manufacturing which is why we need your help.
Raising money for a product that hasn't been validated by the market is always a challenge for anyone. We're confident of the product we've made, based on the initial testing we have done with children and parents, we believe that we have created something truly unique. Validation from our community will definitely make the road toward greater investment easier.
Q: How do I claim a perk?
A: Click on the 'Get This Perk' button to pre-select your perk and continue with the contribution check out process. Alternatively, you may click on the 'Select A Perk' button at the end of our campaign page to choose a perk and provide your contribution details.
Q: Can I claim a perk with Paypal?
A: Yes, we do support payment with Paypal.
Q: What forms of payment do you accept?
A: We accept credit and debit card payments. International cards are fine too.
Q: Can I cancel my perk?
A:By claiming a perk, you are committing to support our project; we know that you will be happy with the Play Kit, but, if you must cancel you may request a refund before the end of our funding campaign that you have contributed to. Once our campaign enters the InDemand program, you may request a refund within 10 days of the contribution. However, if the perk has been fulfilled by us, we will not be able to cancel the perk.
Q: How may I request a refund?
A: To request a refund, please write to us at hello@appykids.com. Refunds will be issued based on the payment method used to make the contribution, and may take three to five business days to appear on your statement.
Q: Can I change my perk?
A: Each contribution made is recorded as a separate contribution with a separate perk. If you would like to receive a new perk, you can do this in a separate contribution. If you'd like to upgrade your existing perk or select a different perk, please contact us at hello@appykids.com
Q: Can I claim multiple perks?
A: It's exciting to hear that you've found multiple perks you are interested in claiming! We may not be able to add multiple perks in a single transaction. However, if you'd like to claim multiple perks, please make a new contribution for each perk.
Q: Who do I contact if I have a question about my contribution?
A: If you have a question about a perk, shipping address or need to provide additional information for your contribution, contact us at hello@appykids.com
Q: If anyone has ideas for pledge rewards or stretch goals, would you consider them and if so, how can I write to you?
A: Couldn't have asked for more! We are glad that you wish to contribute to our project. Please write to us at hello@appykids.com.
Q: How will you get my info to deliver the rewards?
A: Once we are ready to deliver the rewards, we will send you an email survey to request any info we might need such as your mailing address or other details. If you think you might have missed a survey email, please log in to your account to check, you'll see a notification at the top of the site for any missed surveys.
Q: How do I know when my rewards will be delivered?
A:We will keep you updated throughout the manufacturing process and once we are ready to ship we will contact you with the tracking code. We are on schedule with our timelines shared on the project page. However, although we are in close proximity to our manufacturer, the city may remain closed for a large part during Chinese New Year. We encourage you to check the project's updates or comments to see when we plan to deliver the rewards. In case of any queries, feel free to write to us at hello@appykids.com.
Q: I am not receiving the email updates from your project.
A: Kindly check if you have added our email address to your contacts list. Should you still miss our emails, please drop us a line at hello@appykids.com
Q: Will I be notified if the project succeeds?
A: Yes! An email will be sent to inform you if our project is successful or not.
Q: If the project fails, will I get my money back?
A: Even though this is a flexible funded project, if the project fails we endeavour to refund all money to our contributors less any fees that may have been charged during the crowdfunding process.
Your support means the world to us, you are truly someone who appreciates big ideas with a lot of heart. Please spread the word and help other parents discover The AppyKids Interactive Play Kit.
The challenges and risks that are ahead of us as we finalise the development and delivery of the Play Kit are related to manufacturing and logistics.
There may be slight variations in the colors based on our transition from the prototypes used in the photos and video to the final manufactured product.
There may be changes to the final dimensions or specifications of some of the parts as we optimize the design for mass production and / or adhere to standards.
There is the possibility that the delivery of the product to our contributors may be delayed due to unforeseen product changes that require additional development or addition to the scope of our manufacturing time line.
There is the possibility that the delivery of the product to our contributors may be delayed due to unforeseen circumstances in international shipping and logistics.
Shipments may be subject to import duties and other local taxes.
If there are any changes to the Play Kit, we will communicate these changes to our contributors in a timely manner.